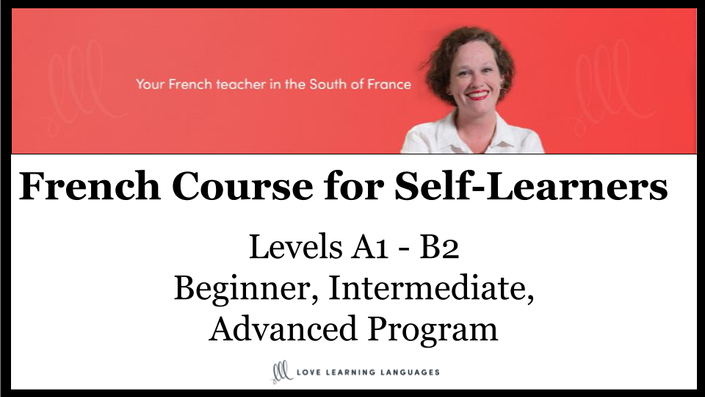 French Course for Self-Learners - Love Learning Languages
Complete French Course Includes All Levels Beginner to Advanced
Watch Promo
Enroll in Course

If you've been trying to learn French, but...
You think learning French is

too difficult

You don't have much

time to study

You can't afford

expensive courses

You haven't found the right

language learning program

for you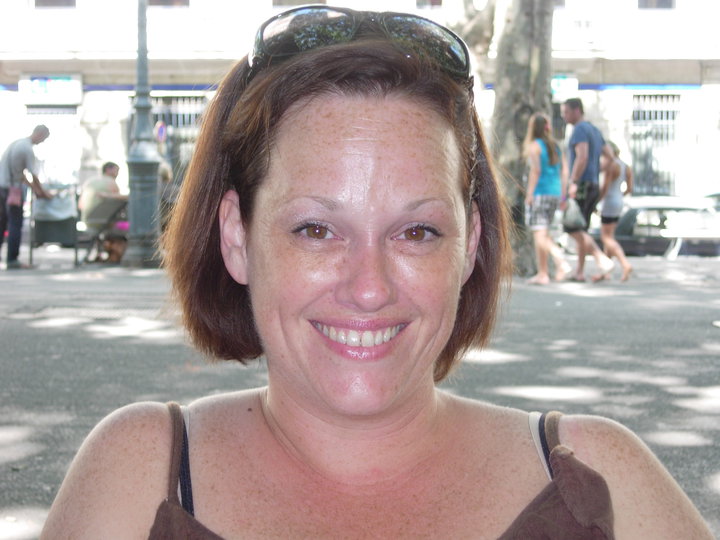 I'm Jennifer, and I've been exactly where you are. I know how to help. I didn't grow up speaking French. I'm a native English speaker. I started learning French as an adult, so I know exactly how frustrating it can be when just trying to listen and respond seems impossible.
Why choose me as your French teacher?

---
I know how to help, and that's what inspired me to create the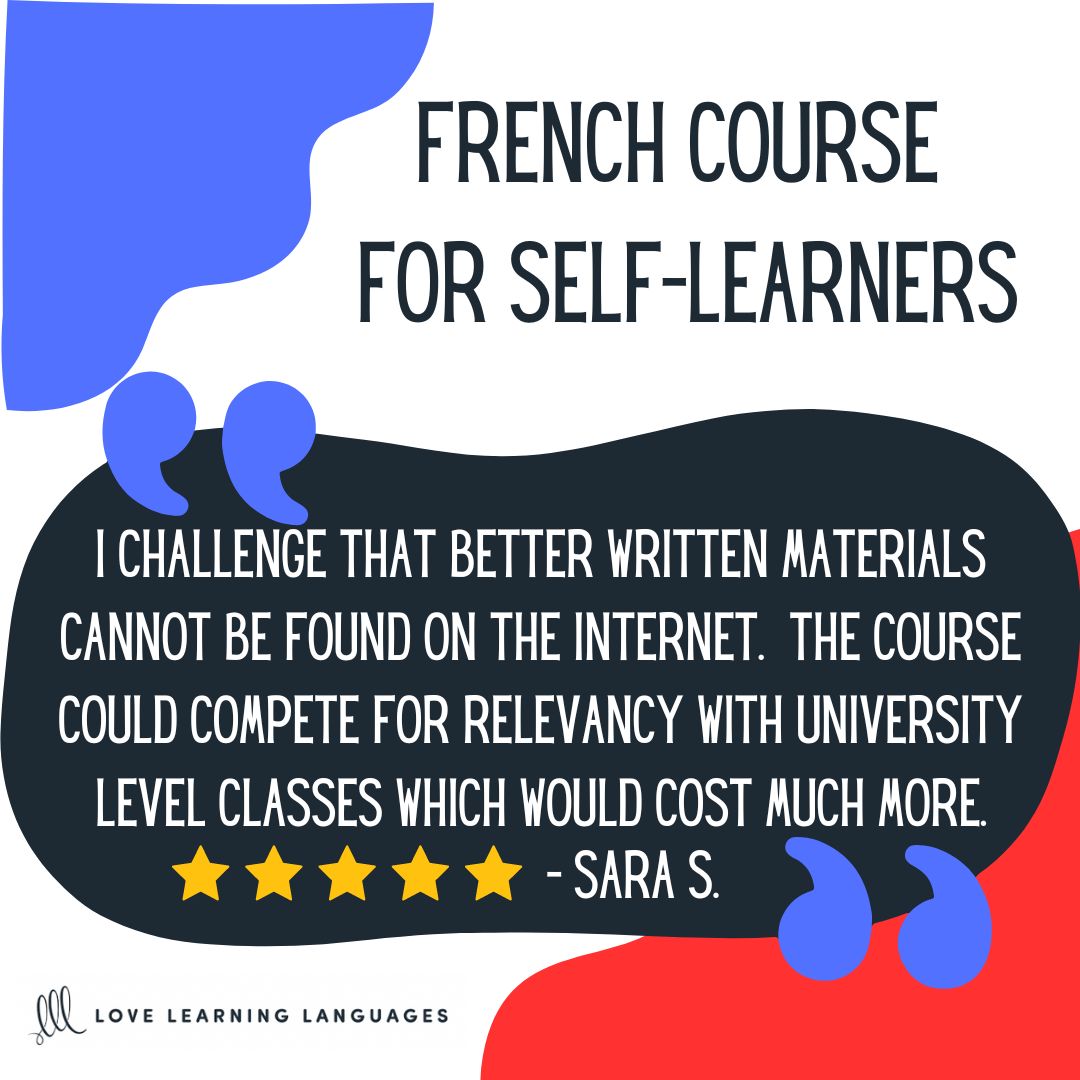 You've been relying on apps and random resources you find online, but...
You're tired of learning words and phrases you'll

never use in real life

You need a

real French teacher

to guide you
You're thinking of giving up because you lack

motivation and progress
Forget about all of that...
Learning French is within your reach
The LLL French Academy is for self-learners at all levels...
The Scope and Sequence of this program for beginners, intermediate, upper-intermediate, and advanced learners is included in the curriculum. It includes numbered lessons in the order that you should follow them.
---
Scroll down to see all of the courses that are included. As soon as you sign up for the program, you will have unlimited access to all courses and other resources in the program.
---
Everything for levels A1 - B2 is included, and you'll have immediate and permanent access to all of it when you purchase this course.

This course is a complete French learning experience.
Take a look at the grammar scope and sequence for self learners and the full course outline below. The lessons and resources in this course are organized according to your level so that you can progress in a logical and sequential manner.
Course Curriculum
Scope and Sequence + Course Outline
Available in days
days after you enroll
A1 - Basic French Greetings
Available in days
days after you enroll
A1 - French Alphabet
Available in days
days after you enroll
Kevin B.

⭐⭐⭐⭐⭐

"Having attended various French lessons over the past few years, I decided to invest in Jennifer's Love Learning Language Course.
I was a little reluctant at first because I was not sure if I would have the technological know- how to navigate the course or whether the course would provide me with enough exercises to develop not only my grammar skills but also my aural skills.
I need not have worried. The course is extremely easy to navigate, even for a troglodyte like me and there is an absolute abundance of exercises designed to improve one's aural skills.
Jennifer is an outstanding teacher with a warm and friendly disposition, who really understands what it means to learn a second language, no matter what age the student might be. The sequential nature of the course enables anyone to work at his/her own pace, while gaining confidence each step of the way. Jennifer explains things simply and clearly and there are lots of opportunities to complete practice exercises to ensure her teaching becomes your learning.
Three years ago, I did not speak a word of French and living as I now do, in France, I have taken every opportunity to attend as many conversation classes as possible. This has certainly been advantageous but this course has really helped me fill in the gaps in my learning. I cannot recommend it highly enough and it is such good value for money. As a former teacher, I can only imagine the hours and hours of work that have gone into creating the course."
Linda F.
"Thank you for this opportunity to highly recommend your French Course for Self-Learners! I first came across your videos on YouTube, and I was immediately drawn to your teaching style. Back in 2002, I received a Minor in French from George Mason University in Virginia. It had long been a dream of mine to, one day, be able to speak French fluently.
After graduating, I immediately traveled to Paris, where I took my (fledgling) French on the road. It was so much fun! However, between then and the day I signed up for your course (many years later), the further pursuit of the French language had taken a back seat as life intervened. That was when I discovered you on YouTube! I watched many of your videos, signed up for emails, and, then, decided it was time to commit myself to your course.
I suppose I had a little bit of hubris as I began the course, thinking I already knew things like the present tense, passé composé, aller-plus-infinitive, etc. Little did I know as I began at the beginning--A1 Beginner Level--how much I didn't know and how much of the nuances of the language had been left out of my university French classes. For instance, it is much more complex to make agreement in the passé composé than I had realized, not to mention how many of the tenses I hadn't a clue about (plus-que-parfait, for just one example). Another thing that totally jazzes me is how much new vocabulary I am learning as I work my way through the course, as well as idioms that make French so interesting and applicable to the way people speak in daily life.
Another thing that I really like about the course is your emphasis on the French accent; you encourage me to watch your mouth, to repeat after you, to read exercises with you, all with an eye to training my mouth (and brain) to learn new sounds and pronounce them correctly. Your emphasis on "power verbs" in the present and conditional tenses enables me to put sentences together immediately with the words I already know. And speaking of "power verbs," I think it is brilliant that you use the same sentence examples with each of these verbs, the repetition of which is key to retention.

I do find the course material and resources (Quizlets, being one) comprehensive and well-structured; each module builds on the preceding module. The way you have structured the modules is great: a video guide, lesson guide, online quizzes, practice cards, and the aforementioned Quizlets. There are also the dictation exercises, which incorporate the vocabulary that we have learned and enable me to actually tell a little story in French, all of this leading me to my goal of being able to speak the language fluently.

One of the greatest things about this course, Jennifer, is that I never feel overwhelmed. Perhaps it is the nature of the course: I can pause the videos: I can rewatch them as many times as it takes for me to assimilate the lesson. Mostly, though, your teaching style is amazing! What comes through to me loud and clear is how much you want me/us to enjoy learning this beautiful language; your lessons reflect your open-hearted desire to pass on this gift to others. You make me believe that it is possible that one day I, too, might reach your level of skill. (Wouldn't that be great?!)

I give your course a ten out of ten for all of the reasons above, plus many more that would take too long to enumerate. The quality of this course is more than well worth the cost. I am delighted to have discovered French Course for Self-Learners!

Thanks for your commitment to us, your students!"
Debra L.
"The options for online language learning are wide-ranging and plentiful but what inspired me to purchase the French Course for Self-Learners was Jennifer herself! She is a truly gifted, natural-born teacher, always finding new ways of explaining complex topics with humour and understanding.
Even more importantly, Jennifer *knows* the struggle of learning a new language as an adult. She knows how difficult (and sometime discouraging) it can be and yet here she is, a bilingual success story and wonderful role model — she allows us to dare believe that "if Jennifer did it, maybe I can too?"
The course materials are extremely comprehensive, engaging, well-structured and follow a logical progression. It's easy to look over the curriculum and see how each element builds on the one before until you suddenly have a framework of knowledge that will surprise and inspire you to keep going! You'll find the videos that accompany most lessons to be entertaining as well as educational. Jennifer often discusses the pitfalls of a particular word, phrase or grammatical concept and applies it to "real life situations" with tremendous humour and humility.
Honestly, the only thing that could be better than Jennifer's French Course for Self-Learners would be having a private tutor come to your home each day. However, the Self-Learners program also allows you the flexibility of working at your own pace as schedules permit, and is a remarkably cost-effective approach to language learning. You buy it once but have a lifetime resource that you can rely on and refer to again and again as your French language-learning journey continues. Jennifer's relaxed approach encourages students to speak with confidence, secure in the knowledge that they have a solid base.
Many of the other programs on the market seem to be either much too juvenile or frankly, repetitive and boring! By comparison, I believe the overall quality, scope, educational value and cost-effectiveness of Jennifer's French Course for Self-Learners is unparalleled. If you're serious about learning French and want to be entertained while doing so, I highly recommend it!"
Ruth H.
"I had been studying French for a while and found many resources were not at my level or sporadically organised. I initially watched a couple of Jennifer's videos and the 'penny dropped' about a lot of grammar. Then I purchased the course and voila.... I finally had the explanations about the grammar in a style I could understand and in an organised progression.
The materials and resources are clearly structured. They also allow you to fit them into your learning style. You can do quizzes or study the fact sheets and back up with the many videos which Jennifer has made.
I've now been through the whole course, and so I am going back and revising. I find I need to do this with French.
When I can I back this up with the online sessions [French Tuesdays] which give me some variety - I can 'dip in; and revise something different each week.
I have an eclectic mix of resources and Jennifer's have been consistently there for the last 2 years. The explanations about the different past tenses and the subjunctive have been especially useful. Jennifer is also very good at coaxing the use of pronouns in French.
I find something different each time I return [to the course] e.g. a vocabulary list or a quiz set.
I rate [Jennifer's course] very highly. It is a one off 'lifetime' fee and some other courses charge that annual subscription fee for access. It has worked out as very good value for money for me.
I would recommend [Jennifer's course] if you want to be part of a French experience. You can 'dip in' and use the resources for individual study, or you can jump in and add the French Tuesday lessons or even an immersion experience based in Beziers.
The important thing is that Jennifer makes French grammar/syntax and its rules understandable and gives opportunity to build knowledge in a structured way over time. You can go at your own pace and come back for revision."
Tracy B.
"I'm currently somewhere between A2 and B1 level in your lessons. I signed up after having done Duolingo for about 6 months -- it gets pretty boring, and there are no grammatical explanations about rules and exceptions etc. I am taking the classes because we love to travel in France and I really like being able to communicate in other languages. I took a year of French in college and did a study abroad program in the Luberon. Loved it, was pretty capable in the language after living there for four months and then forgot most of what I had gained.
The order of your curriculum [flows] well for me. I think the most useful parts of your lessons for me have been the explanations of grammar and the bite sized nature of your lessons -- you are really good at explaining things in a cheerful manner that doesn't patronize or dumb things down.
I very much like the dictées, and the comprehension conversations that are delivered at regular speed and repeated.
The circling exercises are brutal, but I think very helpful. And, I know I need more practice with changing tenses for fluency.
Things like the "bon, bonne, bien" lesson are great. I still don't always get it right, but I'm better at it than before. And the "C'est versus Il est" thing is another bit that no one ever really explained to me.
My comprehension has improved dramatically since taking your classes, but I need practice generating language. I need to speak in a natural context. So, my plan is to audit a live college course next fall. I think I will also continue to use your curriculum because you are SO good at the grammar explanations."
Your Instructor

Jennifer is originally from Louisiana, and has been teaching French for over 20 years. She has been living in France with her husband and children since 2013, and continues to teach French both online and locally. She completed a BA in French and English, and taught French and moved to France for a year before completing an MA degree in French literature and language. While living in the US, she taught French for 15 years at Saint Louis University High School, a Jesuit college preparatory school for young men.
Frequently Asked Questions
How long will I have to complete the course?
You will have lifetime access to all lessons and study materials when you purchase the course. This includes any new components that will be added in the future. You will not have to pay anything extra for the new material.
Is the course material the same as what is included in LLL French monthly challenges?
No, the content of the course is different to what is included in my monthly challenges. Many people like to take the challenges for daily feedback while working on specific daily goals with a group. The French course is self-paced and there is no daily check-in.
What level is needed to find success in this course?
This course is for people who wish to take their French to the next level and really want to focus on achieving fluency. The course is carefully structured from A1 (beginner) level to B2 (advanced) level, following the internationally recognised "CEFR" guidelines. No pre-requisites are required.
Will this course help me pass the DELF exam?
This course is not specifically designed for DELF exam preparation, however the course covers all the grammatical points which are required in the exam. Although the course is not explicitly designed to prepare for you for the exam, it can certainly supplement and help your DELF preparation.
Does the course include a learning plan?
This course takes the guesswork out of what to study next by laying out a plan that's easy to follow. A scope and sequence is included so that knowing what comes next is easy to find, and you will feel confident that you're learning the material in a logical, sequential order.
Will I be able to ask questions about the content?
There's space for comments in each and every section of the course where you can ask questions that will be sent directly to me. Additionally, there is a contact button which will allow you to email me directly. You can also write to me:
[email protected]
Do I have to pay tax on this course?
Depending on the country in which you live, TVA (VAT) will automatically be included. This is the law, and unfortunately there's nothing I can do to change it.
What if I decide the course is not a good fit for me?
The course comes with a 14 day money back guarantee. Please don't wait until the last day to contact me if you want to request a refund. I am required to issue refunds manually, and it gets complicated if you wait until the last day and we are not in the same time zone.