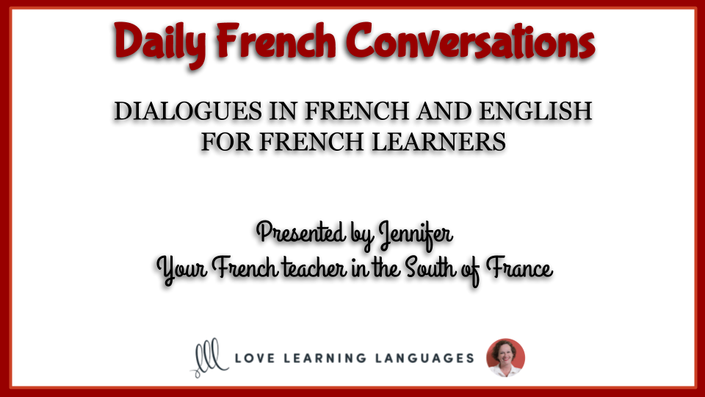 Level A2 - Daily French Conversations + Study Resources
Dialogues in French and English for French Learners
Watch Promo
Daily French Conversations
This course is designed to show you how daily conversations flow in French. Each dialogue has a different theme (see them below), and they are presented in video form. As you listen to the conversations you will improve your comprehension, and you will learn lots of new vocabulary words and expressions. This is really the way French people speak, though it may never have shown up in your textbook!
The speech is not too fast in these videos, and all of the words are written on the screen in French and with English translations. The grammar in these conversations is quite varied, and some of it is definitely upper-level. However, French learners at any level can learn a lot and benefit from these conversations through context. I think you'll find the English translations to be most helpful, and you will see how it is nearly impossible to give direct translations from French to English.
This course is included in my BUNDLED FRENCH LESSONS which continues to grow, and once you own it you'll never pay another centime!

Step 1: Watch the video and read along as you listen to the conversation. When you don't understand a word, just look down at the English translation. Be sure to take notes! It's ok if you don't understand all of the grammar. Just try to pay close attention to how the sentences are put together and how we do it differently in English.
Step 2: Listen to the audio recording without looking at the words and translations. Do you remember what the words mean? You can use this recording to practice your listening skills no matter where you are!
Step 3: Print out the fill in the blank exercise, and write in the missing words as you listen to the recording. An answer key is provided. Once you have done this a few times, I challenge you to get out a blank sheet of paper and try writing it all! Just have that pause button ready!
Here are the themes in this Daily Conversations course.
À la pâtisserie - At the pastry shop

You're at a beautiful bakery where they have all kinds of cakes and pies. You need to buy a dessert to bring to your friend's house for dinner, but she doesn't like chocolate. Ask about your options before making a decision.

Le billet d'avion - Airline ticket

You've just reserved and paid for a cheap flight online with Air France. Unfortunately, you notice that you have misspelled your name. This must be corrected or you'll never be able to take your flight! You need to immediately call Air France and explain the situation. The employee doesn't speak English, but together you find a solution. Your little mistake has turned into a fairly costly affair!

L'écran cassé - Broken phone screen

You accidentally knocked your phone off of your bedside table last night. The screen is now shattered, and you need to have it repaired. When you go to the shop to have it repaired, you're shocked at how expensive it will be! Will you go ahead and have it replaced anyway?

À la boulangerie - Buying bread

You're in charge of getting bread for dinner. You stop in the bakery and ask for a baguette. Be sure to say if you like your baguette very cooked or not. When it is time to pay, explain that you only have a €50 bill. They don't have enough change. What happens next? Will you decide to buy something else or will you leave?

À la station service - Buying gas

You and a friend are driving around France in your rental car, and you notice that you're almost out gas. You are both keeping your eyes open for the nearest service station. You see one, and you pull in. You get out of the car, and just before you start to fill up the tank, your friend notices that you're about to fill up with diesel!! You need unleaded!

Au cinéma - At the movies

You and a friend have been waiting for a particular movie to come out for months! The time has finally arrived, and you two go to the cinema, stand in line, purchase your tickets, buy some popcorn, and go into the movie theater to find the best seats.

Au marché - At the farmers' market

You're at the farmers' market, and you want to buy some mushrooms and potatoes. Greet the seller, and ask for 250 grams of mushrooms and 500 grams of potatoes. You would also like some parsley for the potatoes.

La Fête des Pères - Father's Day

It's almost Father's Day, and you would like to find a nice gift. When you enter a shop, the salesperson asks if you need help. You would like to find a wool sweater for your dad. Ask if they have any, and be specific about size, color, and gift wrapping options.

Livre oublié - Forgotten book

You've just spent a wonderful weekend at a friend's house who lives about three hours away. When you finally got back home, you realized that you had forgotten the book you were reading on the terrace by the pool. It's a really good one, and you decide to call your friend to ask her to mail it to you.

La Randonnée - Hiking in the mountains

You are out hiking along a trail in the mountains, and you lose your balance and fall down. You may have sprained your ankle, and you can't walk. Fortunately, you have your phone with you! You decide it would be a good idea to call a friend for help and to see if he can come and pick you up.

COMING SOON:

Allons en Espagne - Hitchhiking to Spain

You and a friend are traveling in France, and you want to head down to Spain for a week or so. You don't have much money, so you decide to hitch a ride. You are lucky enough to have someone pick you up. The driver is Spanish, but he speaks about the same amount of French as you. It's kind of hard to communicate, but the awkward silence is deafening! Try your hardest to make polite conversation.

COMING SOON:

À l'hôtel - Hotel Stay

You and a friend have decided to drive all the way to the north of France. Around 9pm you start to feel very tired. You decide to stop at a hotel for the night. Go inside and ask if they have any rooms available, how much it costs, how many beds are in the room, if there is a bathtub, if breakfast is included, where is it served and at what time, etc. You also need to know where you can park your car and if there are any nearby restaurants that are still open.

COMING SOON:

Manger des glaces au lac - Eating ice cream at the lake

You're spending the day at the lake with some friends, and it's really hot! You all decide it would be a fantastic idea to go for ice-cream. When you arrive at the ice-cream shop you order your favorite flavor, say if you want it in a cup or cone, ask for some napkins, and pay.

COMING SOON:

Le Métro - Paris Metro

You're on the metro in Paris, and you're so confused. You're trying to get to the Eiffel Tower, but you're not sure which line or direction to take. You decide to get off and ask someone for help. You find a very nice person who is willing to take the time to help you by giving detailed instructions.

COMING SOON:

J'ai fait tomber ma fourchette - I dropped my fork

You're at a restaurant, and you accidentally drop your fork on the floor. Politely get the attention of your server so that you can ask for a clean one, and also ask for some more water and an extra glass.

COMING SOON:

L'addition - Check, please

You're at a restaurant, and you ask for the bill at the end of your meal. You notice there is an error. Your server forgot to charge you for drinks. You're a very honest person, so you tell him (or her) about it.

COMING SOON:

Commander au restaurant - Ordering at a restaurant

You are getting ready to order your meal at a restaurant. Ask what the daily special is. When the server tells you what it is, ask for details. This is a dish you've never heard of and you're not sure if you want to order it.

COMING SOON:

Manger en terrasse - Eating on the terrace

Go into a restaurant and say you would like a table for four people. Also mention that you would like to sit outside if possible, but only if they have installed outdoor heaters. It is a little chilly today.

COMING SOON:

Le maillot de bain - Trying on a swimsuit

It's almost summer, and you're planning your vacation to the beach. You need a new swimsuit! Go into a shop and tell the salesperson exactly what you're looking for. Try on the swimsuit, and call the salesperson over to tell you how it looks. This salesperson is a bit rude...

COMING SOON:

Prenons le train - Train trip

You and a friend are taking a train in France for the first time. You both know some French, but it's hard to understand announcements. You are supposed to change trains in Avignon on your way to Nice. You hear the announcement for the next stop, and you don't understand what is being said. At the last minute, you panic and get off the train. Oops… You're not in Avignon. What do you do?
If you have any questions about this course or any of the others in the Love Learning Languages Academy just drop me a line: [email protected]
Your Instructor

Jennifer is originally from Louisiana, and has been teaching French for over 20 years. She has been living in France with her husband and children since 2013, and continues to teach French both online and locally. She completed a BA in French and English, and taught French and moved to France for a year before completing an MA degree in French literature and language. While living in the US, she taught French for 15 years at Saint Louis University High School, a Jesuit college preparatory school for young men.
Course Curriculum
À la boulangerie - Buying bread
Available in days
days after you enroll
Le billet d'avion - Airline ticket
Available in days
days after you enroll
L'écran cassé - Broken telephone screen
Available in days
days after you enroll
Frequently Asked Questions
When does the course start and finish?
The course starts now and never ends! It is a completely self-paced online course - you decide when you start and when you finish.
How long do I have access to the course?
How does lifetime access sound? After enrolling, you have unlimited access to this course for as long as you like - across any and all devices you own.
What if I am unhappy with the course?
We would never want you to be unhappy! If you are unsatisfied with your purchase, contact us in the first 30 days and we will give you a full refund.