French adverbs and adjectives: BON vs BIEN vs MEILLEUR vs MIEUX
This is a French grammar lesson in which you will learn to how to use many, many different ways to use these sometimes (often) difficult French adverbs and adjectives. Do you ever have trouble knowing when to use which word? Does the following all make sense to you? Just scroll down to the bottom to see the English translation.
C'est bien que Jennifer me propose cette bonne leçon sur les adverbes et les adjectifs. Cela me fera du bien. Cette année, je me suis dit, "C'est bon, ça suffit! Je vais bien améliorer mon français. Ce serait une bonne idée! Suivre un bon cours bien pensé sera mieux pour moi que de chercher des exercices en ligne. Travailler seul(e), c'est bien.... mais bien travailler avec un bon professeur, c'est encore mieux. Je peux commencer ce cours aujourd'hui et continuer quand je veux. Il ne fait pas bon dehors. Il fait bien meilleur dans mon salon. J'ai regardé la vidéo, et ça va déjà mieux. Je me sens mieux parce que je commence à comprendre les règles. Les leçons que j'ai lues dans mon cahier d'exercices étaient bien, mais celle-ci me semble mieux."

This mini-course is included in my BUNDLED FRENCH LESSONS which continues to grow, and once you own it you'll never pay another centime!

Included:

Downloadable video lesson on bon, bien, meilleur et mieux (47 minutes)
Three page printable lesson guide with rules, examples, and quick tips
One online quiz and one online test
One set of 35 practice cards with answer key (includes superlatives)
One set of 65 practice cards with answer key
Step 1: Watch the video grammar lesson about these adverbs and adjectives. Even if you are not sure that you really get adverbs and adjectives in English, by the end of this lesson you'll have a much better understanding. Before you watch the lesson, be sure to download your lesson guide where you'll find all of the rules and examples given in the lesson. You'll even get a few helpful hints, and it will be a handy guide to add to your study resources.

Step 2: You will have one online quiz to take before moving on to the test and practice cards.

Step 3: You get two sets of practice cards as well (total of 100 cards), and answer keys are included so that you can easily check your work. I'm including paper free versions that you can open up on your device as well as versions with 4 cards per page that you can print and cut out in case you enjoy being away from the screen sometimes. You'll be able to use this resource anywhere to truly master BON - BIEN - MEILLEUR - MIEUX. Here's what some of the cards look like: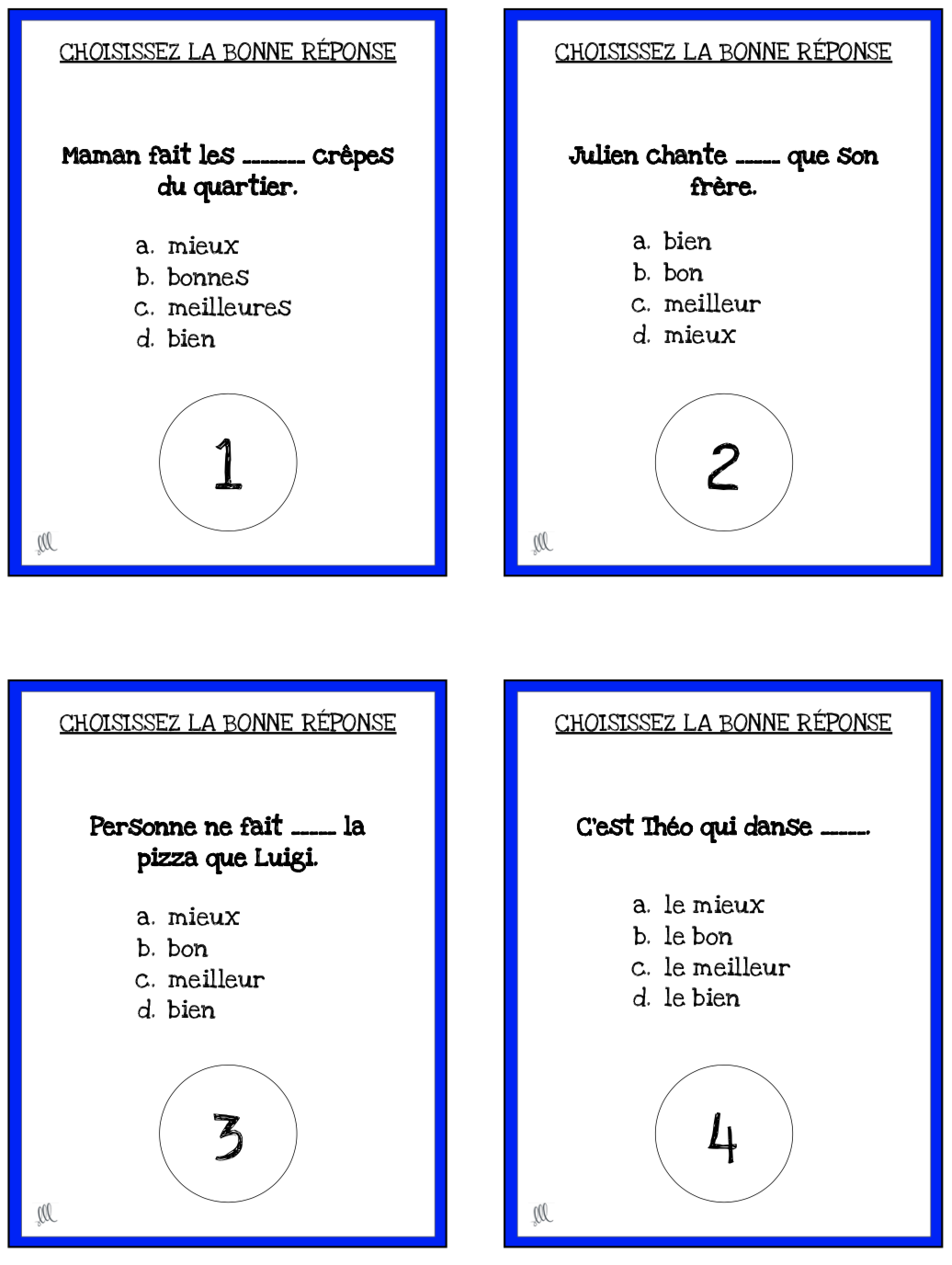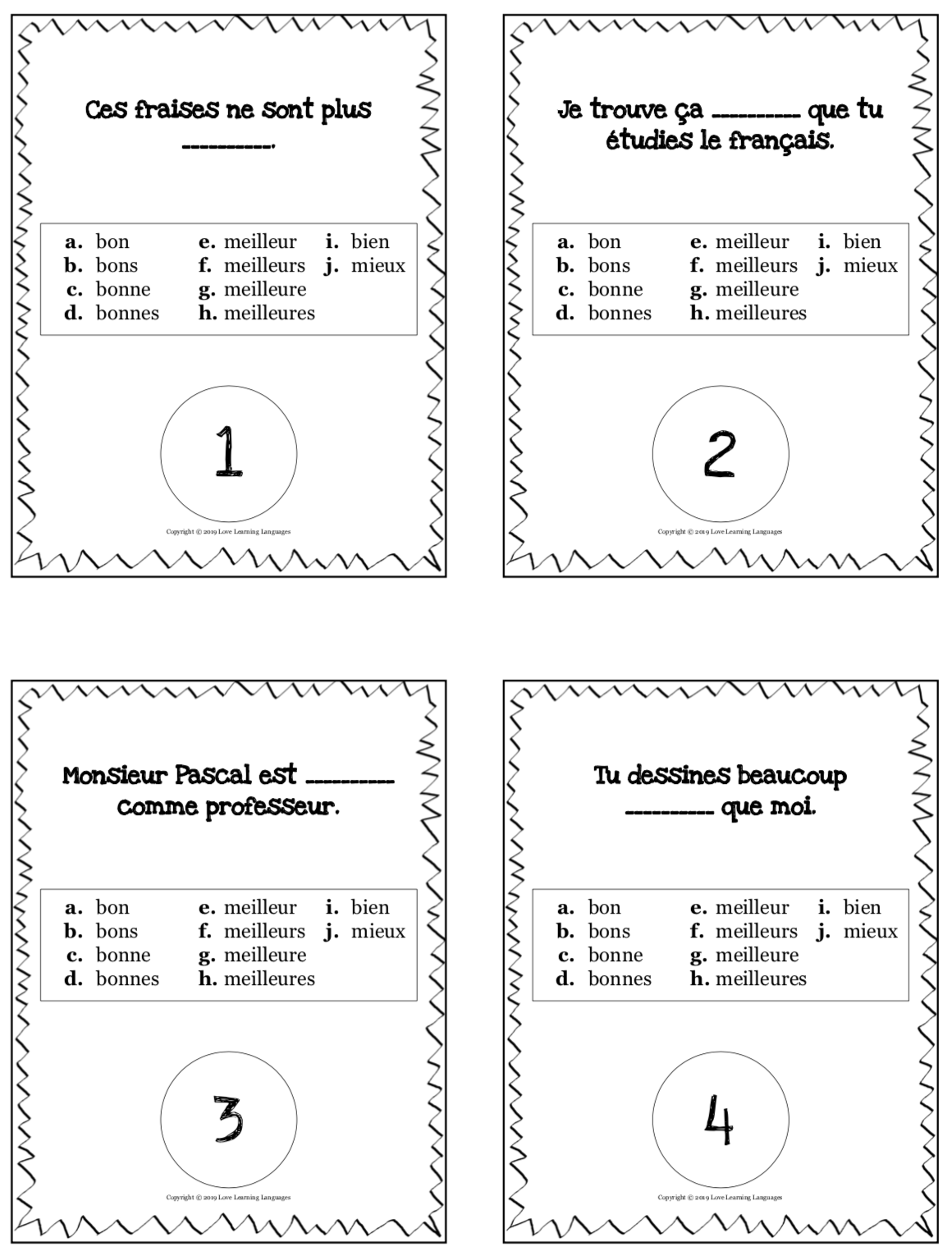 English translation of the text you see above:
It's great that Jennifer is offering me this good lesson on adverbs and adjectives. This will do me good. This year I told myself, "Right, that's enough! I'm going to improve my French. That would be a good idea! Taking a good, well-planned course will be better for me than looking for exercises online. Studying alone is fine... but really working with a good teacher is even better. I can begin this course today and continue when I want to. It's kind of cold outside. It's nicer in my living room. I've already watched the video, and I'm already feeling better. I feel better because I'm beginning to understand the rules. The lessons that I read in my workbook were good, but this one seems better."
If you have any questions about this course or any of the others in the Love Learning Languages Academy just drop me a line: french@lovelearninglanguages.com